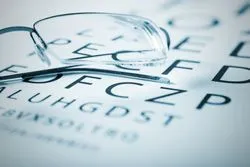 If you're looking for an optometrist, you've come to the right place at Eyes on Flagler. At Eyes on Flagler, Dr. Justin Holcomb is here to help people see clearly and experience the best vision possible with professional eye care services.
At Eyes on Flagler, the rest of our customer service staff are here to answer questions, schedule flexible appointments, and help connect you with the eye care that you need to succeed in life. If you need new pair of contact lenses, or need an eye exam, we at Eyes on Flagler in Miami, FL are here to serve your eye care needs with the help of our eye doctor.
Eye Care from Our Optometrist
Your eye health is an important part of your overall physical health. It's not a good idea to ignore vision problems and skip visiting an optometrist when you have vision issues. Instead, make an appointment to visit us once every two years or annually if you have pre-existing vision disorders.
We'll help schedule you if you're overdue on your eye care and help to restore your vision with our optometry service.
During our routine eye care, we will conduct eye exams to determine the presence of eye diseases or to determine how well your vision is. Dr. Justin Holcomb, our eye doctor, will then prescribe treatment, whether that's eyeglasses, contact lenses, or medication if appropriate. We can also help provide treatment for:
Hard to fit contacts
Sunglasses
Computer vision syndrome
LASIK eye surgery consults
Eye Exams for Eye Disease
Dr. Justin Holcomb is here to help our patients get eye exams to help maintain their vision health by checking for eye diseases. Many eye diseases, such as glaucoma, have little to no symptoms when they first set in, and they are usually only detectable after permanent vision loss has already occurred. This vision loss may be prevented, however, if the eye disease is caught early. That is why it is important to come in for routine optometry appointments, especially if you are in a higher risk category like old age for macular degeneration.
Visit Us for Eye Care, Eye Exams, Contact Lenses, and More from Our Optometrist
You can get eye care for blurry vision or other vision disorders and can start getting help to see clearly by visiting Eyes on Flagler. Get the help you need and schedule your appointment at our Miami, FL clinic. Call us at (305) 220-7555 for eye exams from our eye doctor.